I'm happy to be back and share one of our new family favorite!
It seemed like any time we had a babysitter or hurried evening, pizza was the only feasible option. But preparing a double – heck, quadruple – batch of these homemade chicken nuggets and freezing them for nights with the babysitter, meals for other families, or single-serve lunches is the perfect alternative! As an added bonus, the flavor lends itself (by a landslide) to "gourmet" rather then "packaged convenience food."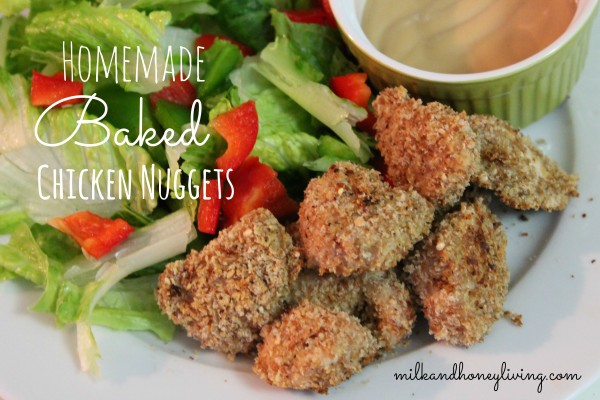 With any recipe that requires a few extra steps or freezes well (like our favorite Dairy-Free Lasagna or Coconut Curry Chicken), I'm always happy to make twice the amount in order to have another meal all prepped and ready to go in the freezer! This recipe yields about 8+ servings (depending on the size of your eaters :) Our family of four ate the equivalent of about  3 chicken breasts alongside a salad and had enough to freeze for at least one more full meal.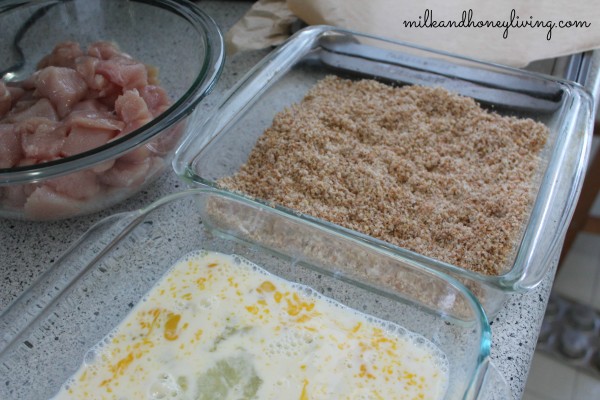 Homemade Chicken Nuggets
Ingredients:
6 medium, raw chicken breasts
about 5 cups bread crumbs (I pulsed 7 pieces of Ezekiel bread in my food processor)
3.5 teaspoons garlic powder
3.5 teaspoons salt
2.5 teaspoons pepper
Directions:
Preheat oven to 350 degrees. Line 2-4 baking trays with parchment (depending on size).
Chop chicken into 1-2 inch cubes. Place in bowl and set aside.
Combine milk and eggs in a low dish (I used a glass 8×8). Set aside.
Combine all dry ingredients (bread crumbs, garlic, salt, and pepper) in a low dish (I used a glass 8×8). Set aside.
Set up your basic breading station: line up chicken bowl, wet ingredients, dry ingredient, and lined baking sheet.
Take piece of chicken, coat in wet ingredients, move & coat in bread crumb mixture, place on baking sheet.
REPEAT until all chicken is breaded.
Bake at 350 for a total of about 30 minutes – flipping nuggets about halfway through.
Serve with your choice of dipping sauce.
To Freeze: Allow to cool, place in freezer bag, and freeze. That easy!
To Serve: Place cooked, frozen nuggets on a lined baking sheet. Bake at 350 for about 12-15 minutes (just enough to heat through; too long and they will dry out).
Do you have a staple recipe for babysitters, new mamas, or quick meals?
I hope you enjoy!
~ Becca
The following two tabs change content below.
Becca, who blogs at Milk & Honey Living, is a follower of Christ, stay-at-home wife and mother of two little warriors (and is anxiously awaiting the arrival of third via adoption)! She enjoys reading, writing, sharing conversations about faith, living this life and documenting it along the way. You can connect with Becca on her blog, Facebook, Twitter, and Pinterest.
Latest posts by Becca Voeltner (see all)