This month we had Back to the Future Day. The actual day in the future that Marty traveled to was October 21, 2015 and I wasn't the only one that was super nerding out about it. My family loved these movies when I was a kid, and the "future" themed one was always my favorite. 2015 always seemed like SO FAR in the future. I couldn't even imagine that day coming! And then it did and I was thoroughly disappointed about the lack of hoverboards available to the general public.
This is a sponsored post written by me on behalf of Universal for IZEA. All opinions are 100% mine.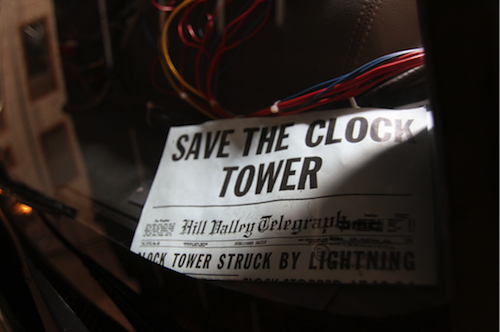 Also the bite size full meals that microwave in a couple seconds. What I wouldn't give for that to be my dinner routine every night. 
My kids are just a titch too young to watch the special edition blue rays that came out for the re-release in honor of Back to the Future day. I can't wait until they are old enough though! This is a movie that I specifically remember watching and quoting with my dad growing up. Now that he's passed, it makes movies and memories like that so much more special to me and I absolutely can't wait to share them with my kids. (That's me and my dad in the picture below…I was 13! Let's just say the nerdiness started young.)
Since time travel is not a thing yet, that's the only way I have to bring some of my dad forward to them, and that is SO special to me! Every memory matter…past and future! If we could really time travel I'd take them back to meet my dad to watch movies and play games together. Since that can't happen, reliving memories is totally the next best thing!
(My daughter totally has the 'mad scientist' hair thing going already)
The films are also getting a theatrical re-release for the 30th anniversary. I'll be honest, I'm totally freaking out about that since I was too young to see them in theaters the first time…too young as in not alive yet.
Universal is even creating a Back to the Future themed ride. I'm hoping it involves flying cars since we don't have those in 2015 yet either!