This is a Sponsored post written by me on behalf of P.F. Changs. All opinions are 100% mine.
If you've been around my blog awhile, you know that I absolutely love picking out the perfect Christmas gifts for each member of my family. For a long time this meant no gift cards or cash gifts, becasue I wanted to choose something "special"…but  a few years ago that changed. I decided that if some one would really appreciate a gift card (or cash) most of all, then that is a special gift for them. So I've started giving gift cards when I find something that I know a friend or family member will enjoy!
I think it all clicked for me when I realized that choosing gifts is all about finding something that my family will enjoy receiving, not finding what I would enjoy giving the most. Instead of giving a gift that I hope some one will like, I want to get something I KNOW they will enjoy. So gift cards and cash are among some of our best gifts for friends and family, especially for those people that are extremely difficult to buy for (*cough* brother-in-law *cough*). That's why I was excited when I heard about this great deal from P. F. Chang's, and thought I would share it with you, since it's a great gift option this holliday season!
One of the really nice things about P. F. Chang's is that you can visit their restaurant after a long day of shopping to enjoy a nice, relaxing meal. While you are there, you can finish up your shopping day by stocking up gift cards for family, friends or colleagues! Gotta love multi-tasking! And it gets even better… when you purchase $100 in gift cards you receive a bonus $20 gift card for free!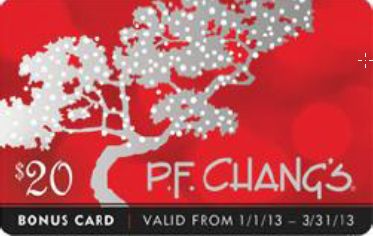 P. F. Chang's is a wonderful Bistro that combines Asian and America culture in their menu. I lived in the Philippines for several years as a teenager, so I always jump at the chance to eat Asian cuisine! Yummy!
A quick browse through P.F. Chang's menu, and I bet you will be as hooked as I am! One of the first things I noticed was their Gluten Free options. I have friends and close family members with gluten allergies and so I love seeing restaurants going the extra mile to accomodate with GF options! Their Philip's Better Lemon Chicken looks absolutely amazing as well! Can't beat lemony sauce with broccoli and chicken. Mongolian Beef is another all-time favorite of mine, so I was happy to see that was an option on their extensive menu as well!
You can also Follow @pfchangs on twitter and Follow P.F. Chang's on Pinterest to keep up with their latest news and deals!
Do you enjoy giving and receiving gift cards? Who in your circle of family/friends would LOVE to receive a P. F. Chang's card.