This post brought to you by Walmart. The content and opinions expressed below are that of Beauty Through Imperfection.
Long work hours can be a challenge for any relationship. I know that my husband has worked at lot, for most of our marriage, which means we have to be extra intentional about the time we do have together. (Scroll to the end to get straight to the Canada Dry Sparkling Seltzer Water Coupon)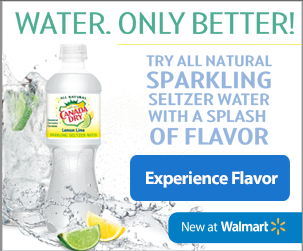 There were times when he was working 10-14 hours 6 days a week, meaning I'd see him for 45 minutes or so while we ate dinner and then it would be time for bed.
Thankfully, his hours are a lot less crazy these days, but I still remember well how difficult those days of what felt like constant work was for us.
During those days I would do my best to show him I loved him in small ways throughout the day. As hard as it was for me to be home alone with two small kids for that long each day, I know it was extra challenging for him as his life mainly consisted of working and sleeping. I wanted some ways to encourage him and let him know we were thinking of him each day.
In case you are in a similar position with work, or just wanting to share some extra love with your spouse, I thought I'd compile a list of ideas that can help you do just that!
1. Texting – Simple and easy but a quick "I love you" text or "thinking of you" can go a long way. Even "Thanks for working so hard today" can bring a smile to your spouse's face! It only takes a minute to send but could boost their spirits at work quite a bit!
2. Background – Since we're already talking about phones I thought I'd include this one. Change their phone background to a love note from you. If you have an iphone this is really simple to do! I made a tutorial  about it last year since hubby like it when I did his so much!
3. Favorite things – Be sure to stock up on his favorites while you are at the store. He will be excited to eat the special treats and know that you thought of him while you were shopping. The grocery store by us has cake-by-the-slice that I buy for him every so often. More frequently I grab a bottle or two of sparkling water. Hubby loves the stuff and even with out tight budget I can almost always afford a bottle or two of it since it isn't very expensive. He would always add a few drops of lemon or lime juice to it once we got it home, but I recently found out that the Canada Dry Sparkling Seltzer Water now comes in a variety of flavors. While the unsweetened version (which hubby also loves) has zero calories and no sodium the flavors add a bit of extra kick for a special day. For the budget conscious spouse like me, you'll enjoy this part too. They are currently offering a coupon code!
You can get 75 cents off just by printing the coupon OR an extra dollar ($1.75) off if you share it online as well! This is perfect for families like ours that are doing their best to connect, even on an extra-tight budget!
4. Date Nights – I know that date nights can become a thing of the past when one or both parties are working a lot. It can be hard to find the time to go out, or difficult to leave the kids with a babysitter if it's the only night they will have with one of the parents. Date nights at home are a great solution to this, or even late-night date-nights for coffee or ice cream. When it comes down to it, it doens't matter what you are doing together as much as it matters that you are doing something and taking that time to be together.
It's really not hard to go that extra mile to let your spouse know they are loved and appreciated but it can make a world of difference to their day!
How do you show your spouse some extra love throughout the day? Did you ever have rough work schedules to work around? What are your best tips for thriving through that time?