Hi everyone! It's Becky from Becky's Best Bites FINALLY back with y'all. So sorry for my absence, but I was forced to take a bit of a break from blogging and the kitchen. I will spare you all the lovely details…but to make a long story short, I severely cut my right thumb and ended up having to get the entire thumbnail removed as well! And I am right handed, so that meant no cooking, picture taking, typing for a while until it healed. It isn't completely healed as the thumbnail will take a quite awhile to regrow, but the worst is better and I am slowly getting back to business.
So today I am sharing with you a super easy and quick dinner that would work great for any busy weeknight, the Mexi Mac Skillet. You guessed it…it is a mexican take on a mac and cheese. The ingredients are ones you probably have on-hand already or are an easy add to your next shopping trip. Nothing too fancy here, but a tasty meal that I was able to make healthier with a few simple swaps.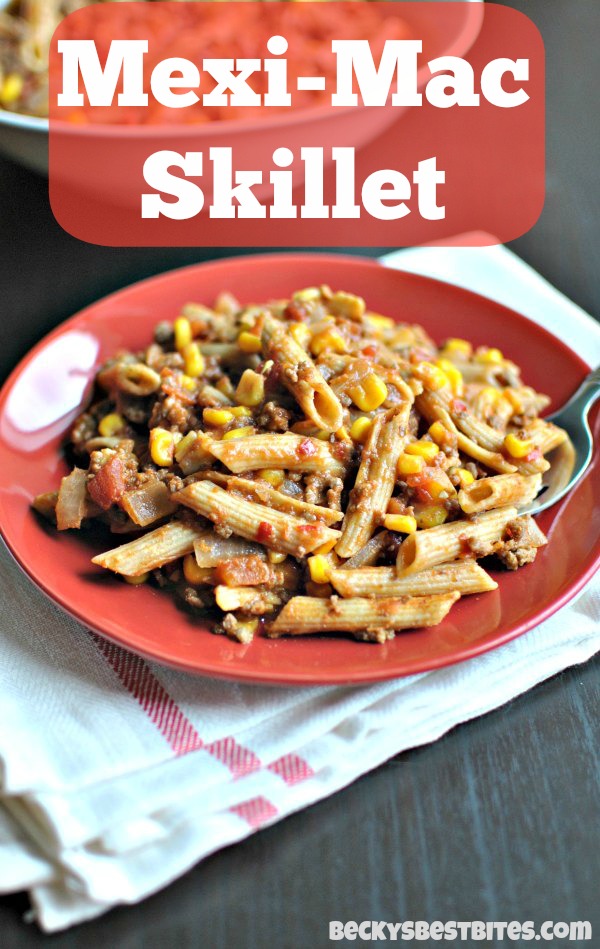 I stumbled across the original recipe on Pinterest when I was trying to figure out what to do for dinner that night with the ground beef that I had pull out of the freezer that morning.  Pinterest is my go-to when looking for recipe inspiration. You can check me out on Pinterest here, if you would like. The Mexi-Mac Skillet recipe by Taste of Home looked like a great recipe that would be perfect for a weekend night. On the table in 30 minutes or less and used ingredients that I happened to have on hand, so I thought I would give it a try making a few modifications to make it healthier and thus Becky's Best Bites approved.
Here is the recipe for Mexi Mac Skillet:
Ingredients
16 oz. 100% whole grain or gluten-free rotini pasta
1 large, sweet onion, chopped
3-4 fresh garlic cloves, pressed or minced
1 lb. 93% lean ground beef or 100% ground turkey breast
1 can (14.5 oz.) diced, fire roasted tomatoes or about 5-6 whole fresh tomatoes, diced
12 oz. fresh or frozen corn
1 tbsp. chili powder
1 tsp. chipotle chili powder (more if you like it spicy, like I do)
1 tbsp. fresh spicy oregano, chopped
1 tbsp. cumin
1/2 cup shredded reduced-fat pepper jack or cheddar cheese
sea salt and fresh ground pepper to taste
Instructions
Prepare pasta according to package directions until al dente. Reserve 1/2 cup starchy pasta water. Drain and set aside, keeping warm.
In a large nonstick skillet, over medium-high heat, brown onion, garlic and ground beef or turkey until no pick remains in the meat and onion is soft and translucent.
Add tomatoes, corn, chili powder, chipotle chili powder, oregano, cumin and stir to combine.
Sprinkle with cheese, add pasta and reserved cooking water. Stir to combine and melt cheese. Season with salt and pepper to taste.
 I hope you enjoy this recipe 
 I look forward to connecting with you 
Find me on Facebook!
Hit me up on Twitter!
Pin with me on Pinterest!
Or, you can always email me at becky (@) beckysbestbites.com
Until next time…Love, Becky