This is a sponsored post written by me on behalf of Stride Rite for IZEA. All opinions are 100% mine.
One of the fun things I get to do as a blogger, is try out fun new products and let you know my honest thoughts on them. I have been a huge fan of the Stride Rite brand for years. I wore them as a kid, because I have very narrow feet and Stride Rite accommodates narrow, wide and average size feet.
Then, I became a mom and ended up getting some second hand shoes given to me that were Stride Rite brand. Knowing now, how hard kids are on shoes and how they can quickly fall to pieces, I was amazed at the durability of these shoes. Not only did they last through the child who had the shoes before we did, but my daughter used them for a long time too!
Which is why I am over-the-moon excited that Stride Rite has partnered with Target to create a new line of shoes for sale at Target, called Surprize!
I'm excited because I can shop my favorite line of kids shoes at the store I am usually at three times a week anyway. I love that both of these brands know that moms don't always have time to make another stop, so they take the guess work out of it for us!
There are so many cute styles of Surprize for girls and Surprize for boys! It was so hard to choose which ones to leave the store with, but we chose the adorable blue ones for my son, pictured above. I love that he can easily get these on by himself (my 2 year old can get hers on without help, too!) and most importantly they STAY ON. No shoes slipping off as they run or play. These are built to last and definitely created with both moms and kids in mind.
Surprize shoes are guaranteed to have:
Comfort – These shoes have a generous fit and all memory foam footbeds, ensuring great comfort for your kids

Fit – The shoes have very flexible outsoles allowing for an agile, natural step and growth

Durability – The rubber toes ensure durabilit
I've seen this to be true first hand!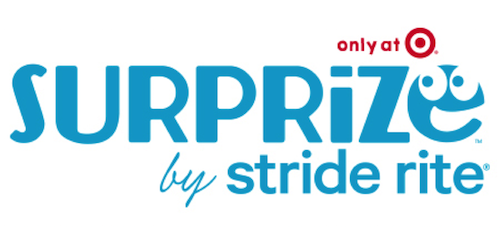 If you are back to school shopping, or getting new close toed shoes for the fall/winter I highly recommend these!
Have you ever tried Stride Rite shoes? Are you as thrilled as I am that you can now get the Surprize line at Target? Don't forget you can Shop Surprize by Stride Rite here or follow them on social media to keep up with the latest!